PASCAGOULA, Miss., Oct. 26, 2013 (GLOBE NEWSWIRE) — Huntington Ingalls Industries' (NYSE:HII) Ingalls Shipbuilding division christened the National Security Cutter (NSC) Hamilton (WMSL 753) today in front of nearly 1,000 guests. Hamilton is the fourth NSC Ingalls has built for the U.S. Coast Guard.
Adm. Robert J. Papp Jr., commandant of the Coast Guard, served as the keynote speaker. "As a sailor myself, I've learned that when you're sailing against the wind and the tide, getting to your desired destination often requires a great amount of effort and sometimes takes longer than you thought it might," he said. "But I can count among our most satisfying accomplishments over the last several years that we have the construction of at least eight National Security Cutters in our sight."
Papp compared the christening to a wedding, saying, "It's the Coast Guard family coming together with the Ingalls family for a great adventure and a great providence. It is, in fact, a wedding. It's a marriage built out of business, but it is definitely a partnership, and we appreciate our partnership with Ingalls."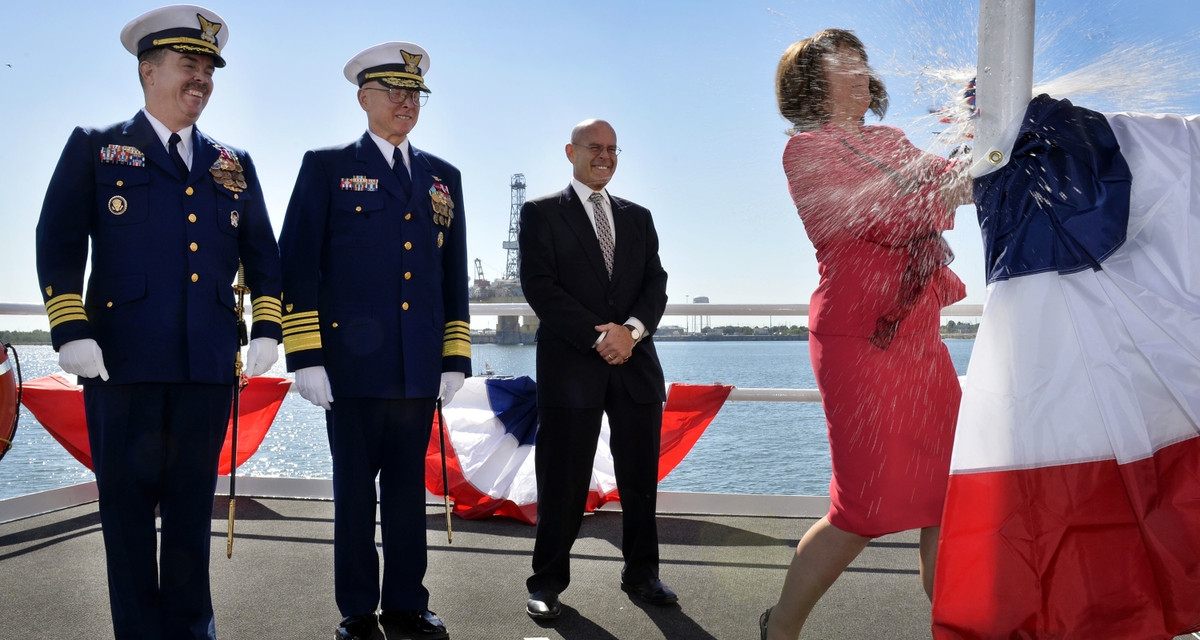 Adm. Papp's wife, Linda Kapral Papp, is the ship's sponsor. She smashed a ceremonial bottle across the ship's bow, officially christening WMSL 753, "Hamilton."
The ship is named in honor of Alexander Hamilton, who is credited with establishing the Revenue Cutter Service, the forerunner of today's U.S. Coast Guard. It is the third Coast Guard cutter to bear the name Hamilton.
HII President and CEO Mike Petters said the ship's namesake "would be most proud of the fact that this ship is the product of a manufacturing company like HII, from a community like Pascagoula, and the result of an American industrial base that includes 649 suppliers from 39 states."
NSCs are 418 feet long with a 54-foot beam and displace 4,500 tons with a full load. They have a top speed of 28 knots, a range of 12,000 miles, an endurance of 60 days and a crew of 110.
"In the past decade, we've added to our 75-year legacy by building the most capable Coast Guard cutters in the world for the most capable Coast Guard in the world," said Ingalls Shipbuilding President Irwin F. Edenzon. "We understand these great ships must be affordable. And the Coast Guard's management of the NSC program has helped. Stable funding, timely contract negotiations and a disciplined appetite for change allow us to get learning from ship to ship. It gives both us and the Coast Guard the best opportunity to achieve our mutual objective: to keep building NSCs at an affordable price so we can build more NSCs. And not only do our shipbuilders know that the ships we build have to be affordable, they know who serves in them: Coast Guard men and women, sailors and Marines who are our friends, our neighbors, our sons, daughters, nieces and nephews—America's heroes."
U.S. Rep. Steven Palazzo (R-Miss.) also took part in the ceremony. "Huntington Ingalls is more than a business, it is a family," he said. "A family 75 years old with a firm legacy and a robust future. As south Mississippians, shipbuilding is a part of our family and will remain the cornerstone of our community and the strength of our country.
"Whether it is drug interdiction, counterterrorism or our Homeland Security missions, this ship will be one of the greatest tools in our nation's tool kit for the protection of our homeland and the safety of our citizens," Palazzo added. "Simply put, these ships are essential in maintaining the safety and security of our nation, and most of all, these ships are responsible for returning the men and women of the Coast Guard safely to their families, a mission that none of us take lightly."
NSCs are the flagship of the Coast Guard's cutter fleet, designed to replace the 378‐foot Hamilton-class High-Endurance Cutters, which entered service during the 1960s. Ingalls has delivered three and has three more under construction, including Hamilton. Keel laying for Ingalls' fifth NSC, James (WMSL 754), took place on May 17. The ship is currently 33 percent complete and will launch the spring of 2014. Ingalls has started construction on 28 of 45 units for NSC 6 and she will launch the fall of 2015. An advance long lead material procurement contract has also been awarded for a seventh NSC.
The Legend-class NSC is capable of meeting all maritime security mission needs required of the High-Endurance Cutter. The cutter includes an aft launch and recovery area for two rigid hull inflatable boats and a flight deck to accommodate a range of manned and unmanned rotary wing aircraft. It is the largest and most technologically advanced class of cutter in the U.S. Coast Guard, with robust capabilities for maritime homeland security, law enforcement, marine safety, environmental protection and national defense missions. This class of cutters plays an important role enhancing the Coast Guard's operational readiness, capacity and effectiveness at a time when the demand for their services has never been greater.
About Huntington Ingalls Industries
Huntington Ingalls Industries (HII) designs, builds and maintains nuclear and non-nuclear ships for the U.S. Navy and Coast Guard and provides after-market services for military ships around the globe. For more than a century, HII has built more ships in more ship classes than any other U.S. naval shipbuilder at its Newport News Shipbuilding and Ingalls Shipbuilding divisions. Employing about 37,000 in Virginia, Mississippi, Louisiana and California, HII also provides a wide variety of products and services to the commercial energy industry and other government customers. For more information, visit: